So far in Social Media we have covered: How to Create a Facebook Business Page and How to Create a Twitter Business Account. Now it is time to work through creating a LinkedIn company page.
While Facebook, by far, has the largest member base with 1.13 billion daily active users compared to LinkedIn's 467 million, there are several compelling reasons for businesses to establish and maintain a presence on LinkedIn, including:
LinkedIn is a highly effective platform for:
Following and networking with other professionals
Hearing the latest news and developments from major players in your industry and market
Promoting your business's news
Showcasing your business's products and services
Step 1 – Begin the Begin
First, you will need to login to your personal LinkedIn profile account (or create a personal profile if you have not already done so) and click on "Work" located at the top of the page. Scroll down to the bottom of the dropdown menu and select "Create a Company" page.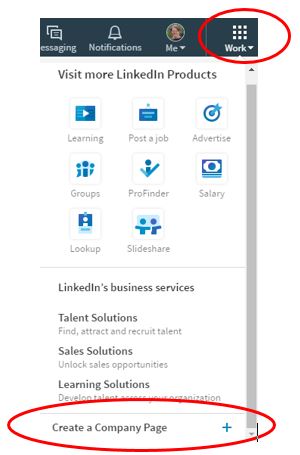 Next, enter your company name and company email address and then check the box to verify that you have the right to act on the company's behalf in creating this page.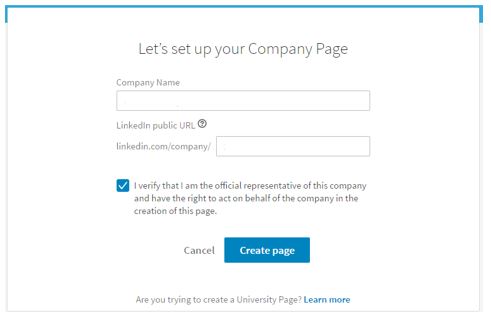 Click "Create page" and then enter your company's information including an overview and a detailed description.
Make sure to include descriptions of your main products and services as well as any indicators that would show what differentiates your company from your competitors.
Step 2 – Uploading images
This is where you upload an image of your company logo and a background banner image.
The recommended image sizes are:
Company Logo – 400 x 400 pixels
Company Banner Image – 1536 x 768 pixels
To add your background image, click on "Update background photo" and select the image file on your computer to upload. Click "Upload photo" and then "Save".
To add your company logo image, click on "Upload logo" and select the image file on your computer to upload. Click "Upload photo" and then "Save".
Note: in September of 2016 LinkedIn implemented a responsive header for company pages. This means that the cropping and size of the images will vary on differently sized devices. This has caused a lot of difficulty in creating a background image that fits perfectly on a desktop and a mobile device. Therefore, I do not recommend adding text to your background image. Below is an image template showing how the responsive header works along with some additional advice that I found on louisem.com:
This responsive header tends to be a real pain to work with and many have voiced their concerns. Hopefully this is something LinkedIn will improve on in the future.
Step 3 – Creating Company Posts
If you are a regular poster on other social media platforms such as Facebook but are new to LinkedIn there are a couple of things to keep in mind.
LinkedIn's main purpose is that of a professional network where people go to make connections with other professionals and businesses. It is not the place for posting funny cat pictures or base humor. Your LinkedIn posts should be related to the industry your company is a part of or be something helpful, insightful, or educational that anyone could benefit from.
The general consensus is that posts made on Tuesday, Wednesday, and Thursday between 7 and 8 am and 5 and 6 pm gain the most reach and are more effective than posts made, say, on a Friday afternoon when people have already begun to mentally prepare for the weekend.
Of course, we have only just scratched the surface on effective LinkedIn posting. Stay tuned for future posts where we plan to go deeper into this subject.
Conclusion
LinkedIn company pages are an excellent opportunity to help create brand awareness as well as promote you company's unique offerings.
Remember to keep your page updated. As your business changes and grows make sure your LinkedIn company page changes and grows as well. Outdated material, be it visual or written, will reflect poorly on your business and can end up repelling rather than attracting new prospects who are out there looking for exactly what you offer. It would be a shame to lose them before they even walk in the door. Like your website, your LinkedIn company page is an extension of who and what your business is so remember to always put your best foot forward. When it comes to branding, all impressions matter.